Local SEO Mastery: Essential Strategies to Boost Your Online Presence and Dominate Local Searches
Introduction
Welcome to the ultimate guide on Local SEO, where we unravel the secrets to mastering your online presence in the local digital landscape. This comprehensive post is your one-stop resource, packed with actionable insights and expert tips to elevate your local search rankings, connect with your community, and drive tangible business growth. Whether you're a small business owner, a marketer, or simply looking to boost your local online visibility, this guide offers valuable strategies and tools to help you dominate local searches and stand out in the competitive digital marketplace.
What is SEO (Search Engine Optimization)?
Welcome to the world of SEO, or Search Engine Optimization, a pivotal element in the digital era. This section unravels the essence of SEO, offering a gateway to understanding how it shapes online visibility and success. While the upcoming infographic will visually guide you through its intricacies, let's briefly dive into what SEO is and why it's a cornerstone in the digital landscape.
Understanding Local SEO
Local Search Engine Optimization (SEO) is a specialized branch of SEO that focuses on optimizing a business's online presence to attract more customers from relevant local searches. These searches occur on Google and other search engines, often with geographical qualifiers, such as "near me" or "in [City Name]."
Definition and Explanation of Local SEO
Local SEO involves a range of strategies and practices designed to improve a business's visibility in local search engine results. This includes optimizing the business's Google My Business profile, acquiring local backlinks, generating local content, and ensuring NAP (Name, Address, Phone Number) consistency across the web. The goal is to ensure that when potential customers search for services or products in a specific area, the business appears prominently in the search results.
Differences Between Local SEO and Traditional SEO
While traditional SEO focuses on improving a website's visibility on a national or global scale, local SEO targets a specific geographical area. Here are key differences:
Geographical Focus: Local SEO has a geographical component that traditional SEO does not. It's about being visible to customers in a specific location.
Google My Business (GMB) Optimization: A critical part of local SEO is optimizing your GMB profile, which includes managing reviews, posting updates, and ensuring accurate business information. This is less relevant in traditional SEO.
Local Keywords: Local SEO prioritizes keywords that are relevant to the local audience, such as "coffee shop in Amsterdam" versus broader terms like "coffee shop."
Local Link Building: In local SEO, the emphasis is on acquiring backlinks from local sources (like local newspapers or community websites), whereas traditional SEO focuses on getting backlinks from high-authority websites, regardless of their location.
Local SEO Benefits At A Glance
Local SEO is crucial for businesses that serve a specific area or have a physical location. It's particularly important for small to medium-sized businesses to compete with larger corporations. The benefits include:
Increased Visibility: Local SEO helps businesses appear in local search queries, which is vital as more customers turn to online searches to find local information.
Targeted Traffic: It attracts more targeted traffic, which often leads to higher conversion rates as these users are actively seeking services or products in the area.
Competitive Advantage: By optimizing for local search, businesses can gain an edge over competitors who may not be utilizing local SEO effectively.
Building Community Connections: It helps in building connections with the local community, fostering trust and loyalty among local customers.
Understanding and implementing local SEO is essential for any business looking to establish a strong presence in its local market. By focusing on the unique aspects of local SEO, businesses can effectively connect with their target audience, increase their local visibility, and drive more foot traffic to their physical locations.
The Importance Of Local SEO For Small Businesses
In today's digitally-driven marketplace, Local SEO stands as a pivotal element for businesses aiming to capture and engage their local customer base. With the surge in mobile device usage and "near me" searches, optimizing for local SEO is no longer just an option but a necessity for businesses seeking to remain competitive and visible in their local markets.
Local SEO By The Numbers
The landscape of local search is constantly evolving, and the statistics paint a clear picture of its growing significance. A staggering 98% of consumers used the internet to find local businesses in 2022, underscoring the shift towards online search for local discovery. Furthermore, 76% of consumers regularly read online reviews for local businesses, highlighting the importance of a strong, positive online presence.
The combined force of local and organic searches accounts for 69% of overall digital traffic, making it a crucial channel for businesses. In 2022, 87% of consumers turned to Google to evaluate local businesses, with 42% of local searches involving clicks on the Google Map Pack, emphasizing the need for businesses to optimize their Google My Business profiles and local SEO strategies.
The Impact Of Local Searches On Sales & Conversions
The influence of local SEO extends far beyond online visibility, directly impacting sales and conversions. The integration of local search into consumer behavior is evident, with 93% of consumers using online searches to find a local business in 2020. This trend is not just about visibility; it's about actionable results.
Local SEO drives real-world actions, with a significant portion of local searches leading to phone calls, store visits, and ultimately, purchases. For businesses, this means that a well-optimized local SEO strategy can be a game-changer, converting online searches into tangible sales and customer engagements.
Setting A Foundation: Google My Business (GMB)
Welcome to the world of Google My Business (GMB), a pivotal tool in the digital marketing arsenal for any business aiming to establish a strong local presence online. If you're new to GMB, think of it as your virtual storefront on Google, offering a first glimpse of your business to potential customers.
This section is designed to guide you through the essentials of GMB, from creating your business profile to optimizing it for maximum visibility. Whether you're a small local shop or a growing enterprise, understanding GMB is the first step towards connecting with your local audience effectively. Let's dive into how you can leverage this powerful platform to put your business on the digital map, attract more customers, and build a trusted community around your brand.
What Is Google My Business? (GMB)
Google My Business (GMB) is more than just a business listing; it's a multifaceted platform that acts as a bridge connecting your business to local customers. At its core, GMB allows you to create a detailed business profile that appears in Google Search and Maps. This profile includes crucial information like your business hours, location, contact details, and services offered.
But why is this important for Local SEO? When someone searches for services or products you offer, especially within your locality, a well-optimized GMB profile increases the chances of your business appearing in these search results. This visibility is key to attracting local traffic – people who are most likely to visit your store or use your services.
In the realm of Local SEO, GMB plays a pivotal role. It's not just about being found; it's about being found by the right people at the right time. For instance, if someone searches for 'best coffee shop near me,' Google uses GMB information to provide relevant, localized results.
This means your coffee shop could be the first thing a potential customer sees, especially if your GMB profile is rich with positive reviews, accurate information, and engaging photos. By effectively managing your GMB profile, you're not only ensuring accuracy in your business details but also enhancing your chances of standing out in local searches, thereby driving more foot traffic to your physical location.
Step-By Step Guide To Setting Up and Optimizing a GMB Listing
Creating and optimizing your Google My Business (GMB) profile is a straightforward yet impactful process. To start, you need to claim your business on Google. This involves verifying your business information, such as your physical address, contact details, and business category. Once verified, you can fully manage your business profile. The key to optimization lies in providing comprehensive and accurate information. Ensure your business name, address, and phone number (NAP) are consistent across all online platforms.
Adding detailed descriptions, relevant categories, and high-quality images makes your profile more appealing and informative to potential customers. Regular updates and posts about your business, such as special offers, events, or new products, keep your profile active and engaging.
Encourage satisfied customers to leave positive reviews and respond promptly to all reviews, both positive and negative, to show that you value customer feedback. Remember, a well-maintained GMB profile not only enhances your visibility in local searches but also builds trust and credibility with your audience.
Tips For Maintaining And Updating GMB Profiles
Regular Updates: Keep your business information up-to-date. This includes basic details like your address, phone number, and hours of operation, especially during holidays or special events. Regular updates signal to Google that your business information is current, which can positively impact your search rankings.
Engage with Reviews: Actively respond to customer reviews, both positive and negative. This engagement demonstrates that you value customer feedback and are attentive to their experiences. It also provides an opportunity to address concerns and showcase excellent customer service.
Utilize Posts Feature: Use the Posts feature in GMB to share updates, promotions, events, or news about your business. These posts appear in Google Search and Maps, providing a direct line of communication with potential customers.
Add Photos and Videos: Regularly upload new photos and videos of your business, products, or services. Visual content can significantly enhance user engagement and provide a more comprehensive view of what your business offers.
Monitor and Answer Questions: Keep an eye on the Questions & Answers section of your GMB profile. Promptly answer any questions posed by users. This not only provides valuable information to potential customers but also shows that you are proactive and customer-focused.
Track Insights: Use GMB Insights to understand how customers are interacting with your profile. Insights can provide valuable data on how customers find your profile, the actions they take, and what content they find most engaging.
Encourage Customer Interaction: Encourage customers to leave reviews, ask questions, or interact with your posts. Customer interaction not only boosts your visibility but also provides authentic content that can attract new customers.
Stay Informed on GMB Features: Google frequently updates GMB with new features and options. Stay informed about these updates to take full advantage of the platform's capabilities.
Harnessing The Power Of Google Reviews
Online reviews are a game-changer for local businesses. They're not just comments; they're powerful tools that can boost your visibility in search results and help customers decide to choose you. In this section, we'll explore how reviews impact Local SEO, share strategies for getting and managing them, and discuss how to handle negative feedback effectively.
The Impact Of Online Reviews On Local SEO
Reviews do more than just share customer opinions; they play a big role in Local SEO. When customers leave positive reviews, it tells search engines like Google that your business is trustworthy and relevant, helping you rank higher in search results. This means more people can find your business when they search for services or products you offer.
Strategies To Encourage & Manage Reviews
Getting more reviews starts with asking your customers. You can do this through follow-up emails, social media, or even in person. Make sure to provide a direct link to make leaving a review as easy as possible. Once the reviews are in, don't just leave them; respond to them. Thank your customers for positive reviews and address any issues raised in negative ones. This shows you value all customer feedback.
Managing Negative Reviews Effectively
Negative reviews can feel tough, but they're an opportunity to show how much you care. Respond to them with kindness and offer solutions. This can turn a bad experience into a positive one, not just for the reviewer but for anyone else who reads the review. Remember, how you handle negative feedback can really shape how people see your business.
On-Page Local SEO Techniques
On-page SEO is a critical component in the local SEO puzzle, directly influencing how well your business ranks in local search results. It's about making your website not only friendly to search engines but also relevant and valuable to your local audience.
Importance of Localized Content
Localized content is the cornerstone of effective on-page local SEO. It's about creating content that resonates specifically with your local audience. This could include blog posts about local events, community activities, or local market trends. Localized content not only appeals to your target audience but also signals to search engines that your business is actively engaged with and relevant to the local community. In fact, websites with localized content tend to see higher engagement rates, with users spending more time on-site, which is a positive signal to search engines.
Tips for Optimizing Meta Tags with Local Keywords
Meta tags, particularly title tags and meta descriptions, play a vital role in on-page SEO. To optimize them for local search, include local keywords relevant to your business and location. For instance, if you're a bakery in Austin, Texas, your title tag could be "Fresh Homemade Bread | Austin Bakery." This not only helps in ranking for local searches but also improves click-through rates (CTRs) as users are more likely to click on search results that clearly meet their local search intent.
Meta Tag Optimization Examples
Local Service Provider: For a plumber in Seattle, the title tag could be "Emergency Plumbing Services | Seattle's Top Rated Plumber". The meta description might include specific neighborhoods or local landmarks, like "Offering reliable and quick plumbing solutions in Capitol Hill, Ballard, and Downtown Seattle."
Retail Store: A boutique in Miami could use the title tag "Trendy Summer Fashion | Miami Beach Boutique". The meta description can highlight local events or seasons, such as "Find your perfect summer style with our new collection, ideal for Miami's Art Deco Weekend and beach outings."
Restaurant: For an Italian restaurant in Chicago, the title tag might be "Authentic Italian Cuisine | Chicago's Best Pasta and Pizza". The meta description could mention specific local areas or unique selling points, like "Enjoy traditional Italian dishes crafted with love, conveniently located in the heart of Chicago's Little Italy."
Professional Services: A law firm specializing in family law in Phoenix could have a title tag like "Compassionate Family Law Attorneys | Serving Phoenix and Surrounding Areas". The meta description can include specific services and local references, such as "Expert legal advice for divorce, child custody, and estate planning in Phoenix, Scottsdale, and Tempe."
Embedding Maps and Contact Information
Including a Google Map on your website, especially on the contact page, is a powerful local SEO strategy. It not only helps users find your location easily but also reinforces your geographical relevance to search engines. Additionally, ensure that your contact information, such as address, phone number, and email, is clearly displayed and consistent across your website and other online platforms. This consistency is key in local SEO, as it helps search engines confidently present your business in local searches, potentially increasing your local search rankings.
Local Link-Building Strategies
Link-building, a cornerstone of search engine optimization (SEO), involves acquiring hyperlinks from other websites to your own. These links are like digital endorsements or votes of confidence, signaling to search engines that others find your content valuable and relevant. The impact of link-building on SEO is profound; it not only drives referral traffic but also significantly enhances your site's authority and ranking on search engines like Google.
What Is Local Link-Building?
Local link-building, a subset of this broader strategy, focuses specifically on acquiring links from locally relevant sources. This approach differs from general link-building in its emphasis on the geographical relevance of the linking domains. While general link-building might target high-authority sites from anywhere in the world, local link-building aims to establish connections with local businesses, community websites, local news outlets, and regional directories. The objective is to signal to search engines not just the credibility of your website, but also its relevance and importance to a specific local area or community.
This localized focus is crucial for businesses that operate in specific geographic areas. Local links reinforce the local footprint of a business, enhancing its visibility and ranking in local search results. When a local bakery, for instance, gets a link from a well-known local food blogger or a city's chamber of commerce website, it strengthens its local SEO profile more effectively than a link from a generic, high-authority site with no local focus. In essence, local link-building is about embedding your business within the digital fabric of your local community, making it more visible and accessible to those who are most likely to visit or engage with it.
How Backlinks Help SEO
Local backlinks play a pivotal role in shaping the local search rankings of a business. These backlinks, coming from locally relevant sources, act as strong indicators to search engines about the geographical relevance and authority of your website.
Relevance
Relevance refers to how well your website matches the local search intent. When your site receives backlinks from local sources such as a city's community portal, local news websites, or regional directories, it sends a clear signal to search engines about where your business is relevant. For example, a backlink from a New York City food blog to a Manhattan restaurant's website strongly indicates to search engines that the restaurant is a relevant result for users searching for dining options in Manhattan.
Authority
In the context of local SEO, authority is derived from the quality and local significance of the backlinks. A link from a respected local chamber of commerce or a well-known local figure's blog carries more weight than a generic link from an unrelated site. This authority tells search engines that your business is not only a legitimate entity but also a recognized part of the local community. For instance, a local hardware store gaining a backlink from a popular local DIY workshop's website would be seen as having higher authority in that local area.
Local Link-Building Impact
Local backlinks directly impact local search rankings in several ways:
Enhanced Local Signals: Search engines use these backlinks to understand the geographical focus of your business. The more local backlinks you have, the stronger the signal to search engines that your business is an integral part of a specific locality.
Improved Visibility in Local Searches: Websites with strong local backlinks are more likely to appear in local search queries. This is particularly important for appearing in the coveted 'Local Pack' in Google search results, which prominently displays local businesses related to the search query.
Competitive Edge: In areas where many businesses are not optimizing for local SEO, having a robust profile of local backlinks can give you a significant edge over competitors, making your business more visible and likely to be clicked on in local searches.
Trust and Credibility with Users: Users are more likely to trust and click on sites that appear authoritative and relevant in their local searches. Local backlinks contribute to this perception of trust and credibility.
Local backlinks are not just about linking; they are about establishing your website's local footprint, both in the eyes of search engines and potential customers. By strategically acquiring these backlinks, you can significantly enhance your local search rankings, relevance, and authority.
How To Acquire High Quality Local Backlinks
Acquiring local links is a strategic process that involves building relationships and leveraging local resources. Here are some effective methods to acquire these valuable links:
Forming Partnerships with Local Businesses

Collaboration is Key: Partner with other local businesses for joint marketing initiatives. For example, a local café can partner with a bookstore for a reading event, linking to each other's websites.
Cross-Promotion: Engage in cross-promotion with businesses that complement yours. A local gym might partner with a health food store for mutual website promotion.

Sponsorships and Community Involvement

Local Events Sponsorship: Sponsor local events, fairs, or sports teams. These sponsorships often include a link on the event's website or articles about the event.
Charity and Community Work: Participate in or sponsor charity events. Local media coverage of these events can lead to backlinks from local news websites.

Guest Posting on Local Websites

Local Blogs and News Sites: Write guest posts for local blogs, news sites, or community portals. Share your expertise in a way that's relevant to the local audience.
Local Expert Columns: Offer to write a regular column for a local online publication, establishing your business as a local authority.

Engaging with Local Forums and Groups

Participation in Local Online Communities: Actively participate in local forums and social media groups. Offer valuable insights and advice, and where appropriate, link back to relevant content on your website.
Hosting Q&A Sessions: Host local Q&A sessions on platforms like Reddit's local threads or Facebook groups, establishing your business as a helpful and knowledgeable local entity.

Utilizing Local Directories and Citations

Local Business Directories: Ensure your business is listed in local business directories like Yelp, Yellow Pages, and local Chamber of Commerce directories.
Niche-Specific Directories: Look for directories specific to your industry within your locality and get listed.

Leveraging Local Influencers

Collaborate with Local Influencers: Partner with local influencers who can mention your business and provide a backlink on their platforms.
Local Influencer Events: Host events or webinars featuring local influencers, which can lead to backlinks from their websites or social media.

Creating Locally Relevant Content

Local Guides and Resources: Create content like local guides, "Best of" lists, or resources relevant to your community. This type of content is highly shareable and can attract backlinks from local readers and businesses.

Networking at Local Events

Attend Local Networking Events: Attend local business events, trade shows, and meetups to network with other business owners and community members who might have websites.
Each of these methods requires a genuine, community-focused approach. The goal is to become an integral part of the local community, not just for the sake of links, but to build lasting relationships and a strong local presence.
Mobile Optimization For Local Searches
In an era where mobile devices dominate internet usage, optimizing for mobile search is crucial, especially for local businesses. Mobile optimization involves ensuring that your website and online content are fully accessible and user-friendly on mobile devices. This is vital for local SEO for several reasons:
Prevalence of Mobile Searches in Local Queries

High Volume of Local Searches: A significant portion of local searches, such as "restaurants near me" or "best hair salon in [City]," are conducted on mobile devices. These searches often lead to immediate actions, like visits or calls.
User Behavior: Mobile users expect quick, relevant, and location-specific results. If your site isn't optimized for mobile, you risk losing potential customers to competitors who provide a better mobile experience.

Google's Mobile-First Indexing

Primary Version of Your Website: Google predominantly uses the mobile version of the content for indexing and ranking. A mobile-friendly site is, therefore, essential for good search engine rankings.
Impact on Local SEO: Since local searches are often performed on mobile devices, a non-optimized site can negatively affect your local search rankings.

Optimizing for Mobile User Experience

Responsive Design: Ensure your website has a responsive design that adjusts content layout based on the device used. This includes readable text without zooming, adequate space for tap targets, and no horizontal scrolling.
Page Load Speed: Mobile users expect fast results. Optimize your website's load time by compressing images, leveraging browser caching, and minimizing code.

Local Information Accessibility

Easy Access to Contact Information: Ensure that your contact information, including phone number, address, and email, is easily accessible and clickable on mobile devices.
Map Integration: Embedding maps on your site, particularly on the contact page, helps mobile users find your location quickly.

Mobile Content Optimization

Local Keywords: Incorporate local keywords strategically in your mobile content, as mobile users often use different keywords compared to desktop users.
Concise and Relevant Content: Mobile screens are smaller, so it's important to convey your message concisely and ensure that the most important information is visible without scrolling too much.

Utilizing Mobile Features for Local SEO

Click-to-Call Buttons: Include click-to-call buttons to make it easy for mobile users to contact you.
Local Schema Markup: Use schema markup to provide search engines with detailed local business information, which can be particularly effective in mobile search results.
Mobile optimization is not just a facet of modern SEO; it's a fundamental aspect, especially for local businesses. By ensuring your website caters to mobile users, you enhance their experience, improve your search engine rankings, and ultimately drive more local traffic to your business.
Advanced Local SEO Techniques
In the dynamic world of local SEO, staying ahead requires not just following best practices but also adopting advanced strategies. These advanced tips can significantly enhance your local SEO efforts, providing deeper insights and keeping you ahead of the competition.
Implementing Schema Markup for Better Insights
Schema markup is a powerful tool for local businesses looking to enhance their visibility in search results. It's a form of microdata added to your website's HTML that helps search engines understand your content better and provide more informative results to users.
Types of Local Business Schema: Implement specific types of schema markup like LocalBusiness, PostalAddress, OpeningHours, and AggregateRating. This helps display detailed business information directly in search results, such as hours of operation, location, and customer ratings.
Enhancing Local Search Visibility: By adding schema markup, you can improve how your business appears in local searches. For instance, if someone searches for restaurants in your area, your restaurant's schema markup can help it stand out with ratings, price range, and cuisine type right in the search results.
Tools for Schema Implementation: Use tools like Google's Structured Data Markup Helper to create and test your schema markup. Ensure it's correctly implemented and error-free for the best results.
Utilizing Local SEO Tools for Better Insights
Leveraging specialized local SEO tools can provide valuable insights into your local SEO performance and help refine your strategies.
Tool 1: Moz Local
Moz Local is a comprehensive tool that helps businesses manage their local SEO listings across multiple directories.
Listing Management: It ensures your business information is consistent and accurate across the web, which is crucial for local SEO.
Review Monitoring: Moz Local also offers features to monitor and respond to customer reviews, helping maintain your business's reputation.
Tool 2: BrightLocal
BrightLocal is a versatile tool focused on local SEO analytics and reporting.
Local Search Audit: It provides detailed reports on your local search performance, including rankings, citations, and Google My Business insights.
Citation Building: BrightLocal helps in building and cleaning up local citations, ensuring your business information is uniform across the internet.
Tool 3: SEMrush Local SEO Toolkit
SEMrush offers a suite of tools specifically for local SEO, making it a valuable asset for businesses.
Competitor Analysis: Understand how your local competitors are performing and identify areas for improvement.
Keyword Tracking: Track local keywords and discover new opportunities to rank higher in local search results.
Keeping Up with Local Search Trends
Staying updated with local search trends is crucial for maintaining and improving your local SEO strategy.
Follow Industry Leaders and Blogs: Regularly read blogs and follow industry leaders to stay informed about the latest local SEO trends and algorithm updates.
Attend Webinars and Conferences: Participate in webinars and conferences focused on local SEO to learn from experts and network with peers.
Experiment and Adapt: Be open to experimenting with new strategies and quickly adapt to changes in local search algorithms and consumer behavior.
By implementing these advanced local SEO tips, businesses can not only enhance their visibility in local search results but also gain valuable insights to continually refine their local SEO strategies.
Measuring Your Local SEO Success
To truly gauge the effectiveness of your local SEO efforts, it's essential to measure and analyze specific metrics. This data not only shows the success of your strategies but also guides future optimizations.
Key Metrics to Monitor
Local Search Rankings: Track where your business appears in local search results. Are you featured in the Google Local Pack? How do you rank for key local search terms?
Organic Traffic: Monitor the volume of visitors coming to your site through organic search. An increase in organic traffic, especially from local search terms, indicates successful local SEO.
Conversion Rates: Assess how many visitors are taking desired actions (like making a purchase, signing up, or contacting your business). High conversion rates from local visitors signify effective local targeting.
Tools for Tracking Performance
Google Analytics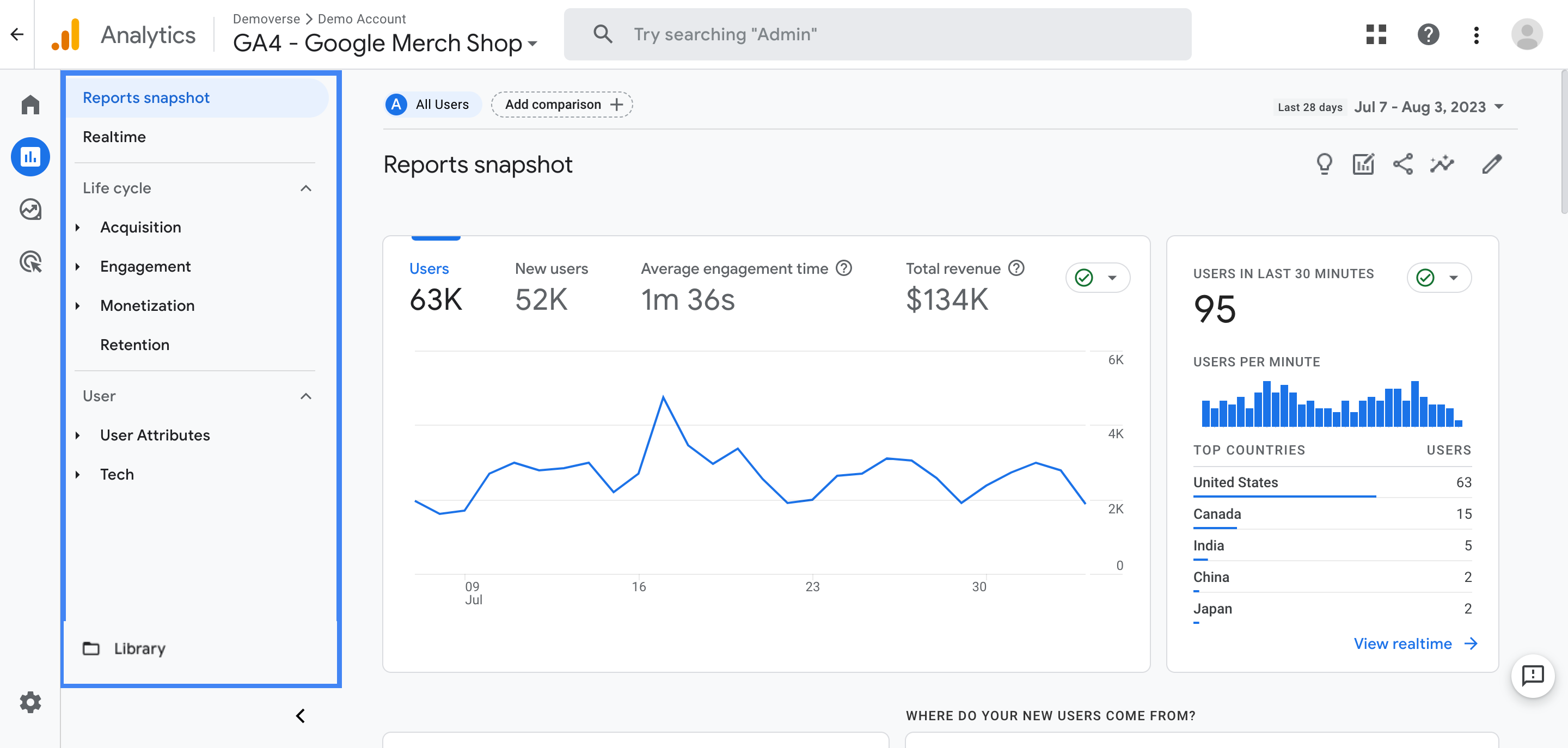 Google Analytics is a comprehensive tool for tracking website performance, including local SEO efforts.
Traffic Analysis: It provides insights into how much traffic you're receiving from local searches and which pages are most visited.
Behavior Flow: Understand how users from local searches interact with your site and identify potential areas for improvement.
Google Search Console
Google Search Console is essential for understanding your site's performance in Google search results.
Search Queries: See which local search queries bring users to your site.
Click-Through Rates (CTRs): Monitor the CTRs from search results to your site, helping you understand the effectiveness of your title tags and meta descriptions.
Adjusting Strategies Based on Performance Data
Identify Underperforming Areas: Use the data to pinpoint aspects of your local SEO that aren't performing well, such as specific pages or local keywords.
A/B Testing: Experiment with different elements (like meta tags, local content, or Google My Business listings) and compare performance to determine what works best.
Stay Agile: SEO is an ever-changing field. Be ready to adapt your strategies based on new trends, algorithm updates, and performance data insights.
By consistently monitoring these key metrics and utilizing the right tools, you can effectively measure the success of your local SEO efforts and make informed decisions to continually enhance your local search presence.
Local SEO Strategy Wrap-Up
As we've explored throughout this guide, local SEO is an indispensable component of a successful digital marketing strategy, particularly for businesses targeting a specific geographic area. By optimizing for local search, businesses not only enhance their online visibility but also connect more effectively with their local community, driving foot traffic, and boosting sales.
The journey of mastering local SEO involves various facets, from understanding the nuances of Google My Business and harnessing the power of reviews to implementing advanced techniques like schema markup and utilizing specialized tools. Each element plays a crucial role in building a robust local SEO strategy that not only attracts but also retains customers.
However, the landscape of local SEO is ever-evolving. Staying informed and adapting to new trends and algorithm updates is crucial. Regularly measuring and analyzing your performance allows you to refine your approach, ensuring that your business remains a prominent and trusted figure in local search results.
We encourage you to start implementing these strategies, whether it's optimizing your website for mobile users, engaging in local community events, or building a strong portfolio of local backlinks. Each step you take is a move towards a stronger local presence and a more successful business.
What's Next?
To continue your journey in enhancing your local SEO, we invite you to explore more of our articles. Each piece is designed to provide you with deeper insights and practical tips on various aspects of digital marketing and local SEO. And don't forget to sign up for our newsletter! By subscribing, you'll receive the latest updates, expert advice, and exclusive resources directly in your inbox, helping you stay ahead in the dynamic world of local SEO.
Start now by reading more on our site and joining our community of savvy marketers and business owners. Together, let's unlock the full potential of your local SEO and propel your business to new heights!
Frequently Asked Questions
What is Local SEO and Why is it Important?
Local SEO is the practice of optimizing your online presence to attract more business from relevant local searches. It's crucial for businesses targeting specific geographic areas, as it enhances online visibility, drives targeted traffic, and increases foot traffic to physical locations.
How Does Local SEO Differ from Traditional SEO?
Local SEO focuses on optimizing for a specific geographical area, utilizing local keywords, Google My Business optimization, and acquiring local backlinks. Traditional SEO targets broader, non-location-specific audiences and emphasizes global or national search visibility.
What are the Key Components of a Successful Local SEO Strategy?
Key components include optimizing your Google My Business profile, generating local content, ensuring NAP consistency, acquiring local backlinks, and managing online reviews. Mobile optimization and keeping up with local search trends are also vital.
How Can I Improve My Business's Local Search Rankings?
Improve your local search rankings by optimizing your Google My Business listing, ensuring your website is mobile-friendly, using local keywords, acquiring quality local backlinks, and actively managing and responding to online reviews.
What Tools Can Help with Local SEO?
Tools like Moz Local, BrightLocal, and SEMrush Local SEO Toolkit are invaluable for managing listings, tracking performance, and gaining insights into your local SEO strategy. They help in citation building, competitor analysis, and tracking local search rankings.